Glamping has become one of those trending new terms popular among millennials and growing in popularity with everyone else. But what is it really? And how is it different from camping? Are they actually that different? In many ways, yes, mostly to do with the experience you have doing very similar things.
The most basic difference between camping and glamping is the level of glamour involved. You could define glamping as a trip involving anything you consider to be glamorous compared to the more primitive style of tent camping we imagine when we say, "We are going camping this weekend."
Beyond that, there are quite a few differences that set glamping and camping apart. If you are a glamper, there is no way you would go camping, and many campers pride themselves on not glamping. If you don't know which camp you fall into (pun intended), then read this article to figure it out.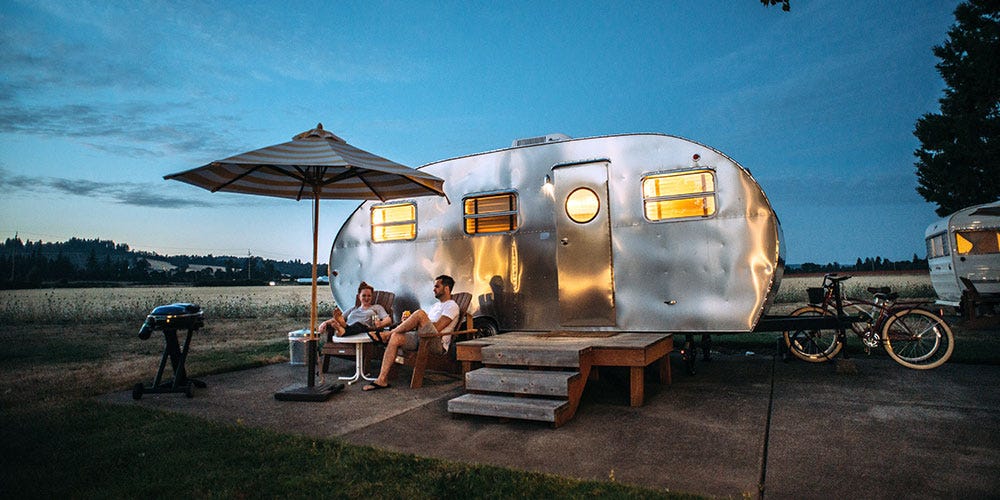 The Differences Between Glamping and Camping
We outline the most obvious differences between camping and glamping below. The differences can impact every part of your outdoor adventure, down to the food you eat and how you sleep.
The Campground You Choose
The differences between camping vs. glamping start from the very beginning of the trip planning. When you decide where to go, the type of campground you choose will identify a difference between campers and glampers. However, be aware that this isn't always the defining difference since plenty of campgrounds can accommodate both.
Remember, you are looking for glamor on this trip. You will want to be able to use your gear to the fullest. If you are a glamper, then you will choose a campground that has electricity and running water. If you are an adventurous camper, you will likely choose a much more primitive campground since you don't have to worry about using much in the way of electrically powered technology. Your campground will likely be rougher, perhaps even without a bathroom or fire pits to mark your tenting area.
The Gear You Bring
Once you have chosen your campground, you are ready to start getting packed. If you don't know whether you are a glamper or a camper, you can likely take a look at your packing list to make an accurate guess. You might decide to get your RV ready or pack your lightweight tent in your backpack.
For example, if you fancy a movie night while you camp, so you decide to bring a portable projector, you likely fall under the glamping category. A camper's version of entertainment would likely be reading a book by flashlight or having outdoor games or cards that you can play without electricity.
As a glamper, you will want to get ready to pack an RV or luxury tent full of materials, or maybe you'll opt to stay in a cabin or yurt.
If you are a tent glamper, you will likely be filling your vehicle of choice with all sorts of amenities to pack your trip full of home comforts. Your glamping tent is probably decked out with beautiful rugs and other decorations, string lights, and storage containers to make meals easier. Some of these materials could be gear like:
Portable coffee makers
Induction burner
Toaster oven
Blow-up mattresses
If you are a traditional primitive camper, you will prefer to keep it simple. Therefore, the gear that you choose will involve a minimalistic and lightweight selection. You are likely to use a sleeping bag and perhaps a sleeping pad if you decide to pack a little heavier. You might also throw in a small gas-powered camping stove to cook if necessary, your tent, and some food materials—all of which will be held within a backpack.
The Way You Sleep
The way that you choose to sleep is perhaps the most obvious difference between glamping and camping. As a glamper, you are unlikely to sleep anywhere near the ground. Instead, you will either sleep on a cot, on an air mattress, or in an RV bed. If you are a tent camper, you have multiple choices and will sometimes even combine them to maximize the comfort of the bed.
As a camper, you are much more likely to sleep on the ground. You will often use a sleeping bag to stay warm, although, in warmer weather, you may use a simple, thin blanket. There are options that campers are "allowed" to use depending on the length of the trip and the setup you choose. That could involve a sleeping pad under your sleeping bag or sleeping in a hammock instead of on the ground.
The Food You Eat
The way you cook, store, and eat food will differ based on whether you are a camper or a glamper. Both kinds of outdoors adventurers are likely to share some of the foods, such as classic camping food like s'mores. However, glampers are likely to have a much more kitchen-esque set up on their site compared to campers.
Glampers could have induction stoves, kettles, and toaster ovens to use. On the other hand, campers are more likely to have nothing but some cutlery to use, a fire, and at most a gas-powered stove for camping or backpacking. They will use these items to heat their food, water and make their morning coffee.
The kind of food you bring will mostly depend on what you have to cook. Glampers tend to have much fancier meals with fresh or frozen meats and vegetables. If they have a mini-fridge in an RV or effective storage containers, they could have meals similar to what they would make at home. On the other hand, campers are likely to have simple meals like sandwiches, quick-cook oatmeal, or freeze-dried camping food.
Restrooms
Glampers are likely to give the condition of their restrooms much more consideration. It will be important for them to have restrooms on-site with running water for functional showers and toilets.
A campsite that campers will use is less likely to have showers at all, and they might not even have running toilets. So instead, you are more likely to use a vault toilet or even Mother Nature herself.
Temperature Control?
True camping luxury becomes apparent when you involve a heater or an air conditioner. If you have ever felt the deep chill of an autumn night within your tent, you are likely a camper.
When you compare the difference between a camper vs. a glamper in this category, you can easily see the difference. Campers will have nothing but their sleeping bags and body heat to keep them warm. Glampers are more likely to use electrically powered units to keep their tent or RV space perfectly temperature-controlled.
Wifi or Off-the-Grid
When you head into the outdoors, the connectivity you have is another possible difference between campers and luxury glampers. We are all accustomed to having a constant connection to all of our loved ones and the answer to almost any question you could think up. Glampers are likely to ensure they will still have a wifi connection or have a hotspot available whenever they want it.
For many campers, part of the joy of camping comes from getting off-grid. As a camper, you are more likely to leave your phone, laptop, and tablet at home instead of packing them in your bag to serve as a form of entertainment for your trip. Instead, you are more likely to enjoy time around the fire or reading a good book.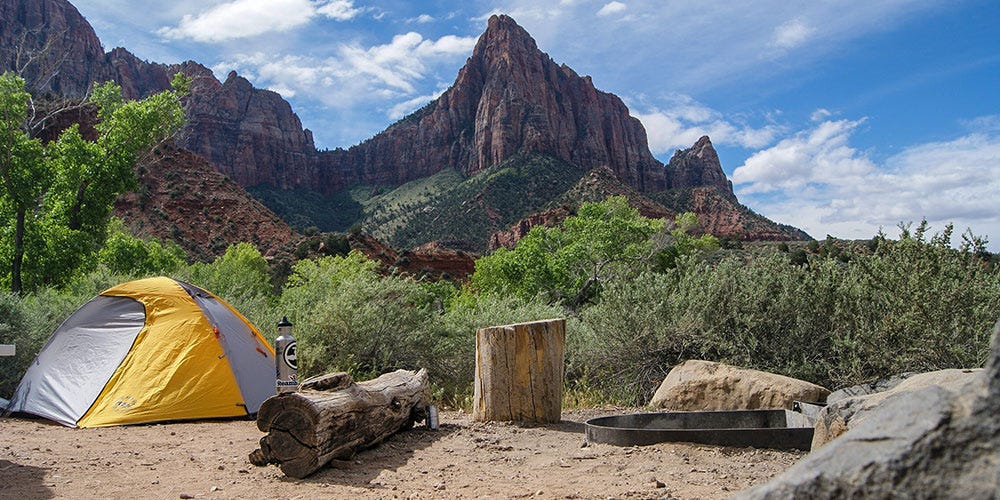 The Middle Ground
For those that want to give glamping a try, there are many areas you can go where the associated organization will have everything but your clothes and hygiene items ready to go for you. For instance, you can try yurt glamping, where you stay in an enclosed shelter in a natural environment. Though yurts are like oversized tents, you will often open the flap to find a luxury yurt filled with beautiful decorations and electrical appliances like refrigerators. In a rentable yurt, you are likely to be staying only a few more miles away from restaurants and fun attractions in the area.
Venturing out on a camping trip often involves much preparation since you will have the appropriate gear to have a safe and relatively comfortable trip. On the other hand, campers tend to get to go further off-grid, have more privacy, and spend less money on gear.
Finding a middle ground is also possible. For example, plenty of adventurers enjoy a few luxuries at camp, such as a well-pumped mattress under their sleeping bags.
If you are ready to get your glamp on, then you will need to stock up. Check out ShelterLogic for your luxury camping supplies like cots, pop-up canopies, and camping chairs to make your trip that much more comfortable.