Arrow Storage Products metal sheds are designed to be easily assembled and installed as a DIY project. However, the easiest of tasks can sometimes be daunting to the most seasoned shed installers, no matter how many times they go over the instructions.
Take it from Chip Wade, the host, designer, and executive producer of his Emmy Award winning series, Elbow Room. A little bit of planning and preparation will ease the burden and make projects like assembling an Arrow storage shed simple.
Wade, who is also the owner and lead designer of Wade Works Creative LLC, outlined the seven simple steps for assembling your Arrow storage shed for a video produced for Arrow Storage Products. You can watch the video above or read on to unlock the tips.
Find the Right Space
Wondering where you should place your shed? A good space would be a level spot in your yard where there is ample space.
Keep Accessibility in Mind: Whether your shed features swing or pocket doors, the area in front of your shed should be free of obstacles. This will allow you easy access to get in and out of your shed. That's really important when you want to store large objects like mowers, wheelbarrows, and ladders.
Consider a Solid Footing: A foundation is not required, but we recommend you put your shed on top of a wood platform, a concrete pad, or a deck. Another option is to get a floor kit, which will help you square up your shed, and install a plywood floor on top of that.
Avoid Condensation
Condensation and moisture are not good for your stored items. That's why you want to place your metal shed in a well-drained area.
Create Drainage If Necessary: Gravel or well-crushed rock can be used to help prevent moisture from getting into the shed through the base. This will also assure adequate ground-water drainage away from the shed's base.
Add a Vapor Barrier: A continuous unbroken plastic vapor barrier with a thickness of 6 mils between the exposed ground surface and the shed's base will help prevent moisture from seeping into your shed.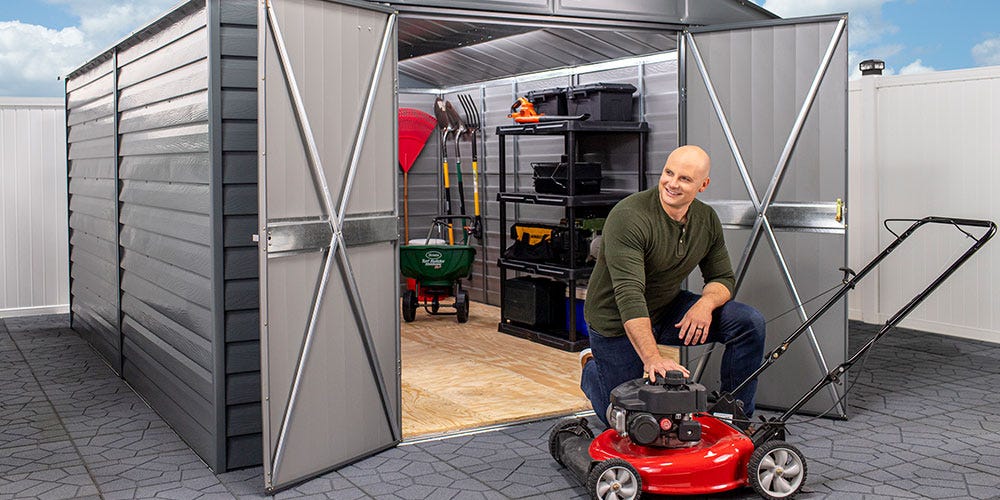 All the Right Tools
Don't run back and forth to your toolbox. You should have the following tools at hand and ready to go before you begin to assemble your shed:
#2 Philips head screwdriver
Cordless drill
Utility knife
Pliers
Level
Tape Measure
Wrench
Weather stripping for the roof panels
Arrow provides you with nuts, bolts, washers, and screws.
Safety First
You are building a structure that is bigger than you, which means it's extremely important to put your safety first. It's easy to forget a lot of these things when you're moving fast.
Keep children and pets away.
Wear long sleeves.
Wear work gloves and safety glasses.
Never put your whole weight on the roof.
When you use your step ladder, make sure it's fully open and even on the ground.
Check to make sure the weather is good. You don't want it to start raining midway through so you have to leave an unstable, unfinished shed.
Also, avoid building on a windy day. That will prevent damage to the panels.
Don't go it alone – always assemble your shed with a partner. More often than not, you will need an extra set of hands.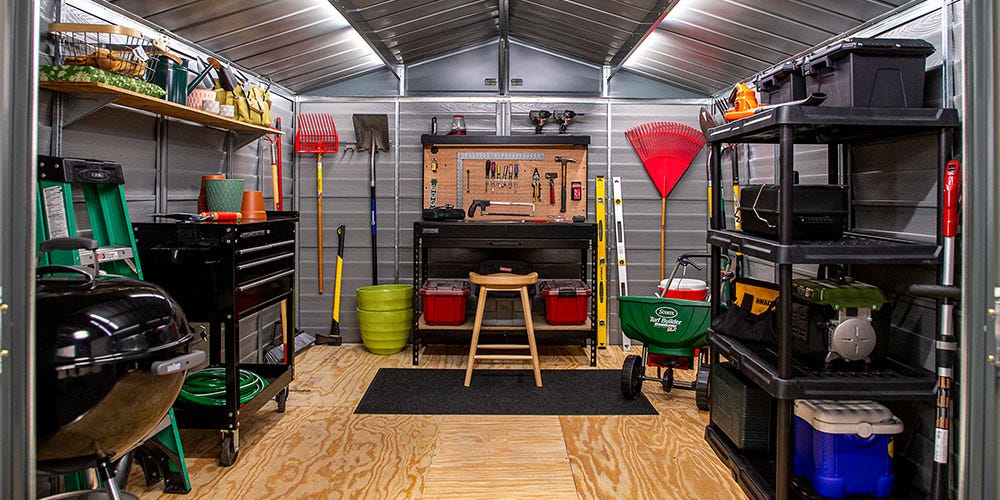 Check the Parts
Before you start putting together your Arrow shed, lay all the parts on the ground. Then check your instruction manual and make sure that all the parts you need have been laid out. That way, if something is missing, you can call Arrow Storage Products and get a replacement before you begin your build.
Look for Part Numbers: Part numbers are printed on each part. The numbers can easily be wiped off once you've assembled your shed.
Use Washers as Instructed: Make sure the washers are flush with the panels. You don't want to overtighten the screws because that, in fact, can crack the washers.
The Importance of Anchoring
When you're done assembling your shed, you must anchor it. If you don't anchor your shed, it could get damaged or cause damage. Don't leave your shed unattended until it's completely assembled and properly anchored.
Arrow offers anchor kits for a variety of options. You should have the appropriate anchor kit available when you build your shed, and you should build everything in one day in order to anchor it properly. Anchors can be ordered here when you order your Arrow metal shed.
Accessorize Your Arrow Shed
How do you plan to use your Arrow storage shed? Chip Wade would use an Arrow Select Series storage shed to store all his gear, while his wife, Pauli, would use an Arrow Classic Series metal shed as a gardening shed.
Both Chip and Pauli will accessorize their Arrow metal sheds to increase the ease of use. With tool hangers that attach right to the shed panels, can keep shovels and rakes organized and out of harm's way. Pauli will add a workbench that is sold separately online.
Made in the U.S.A.
Arrow sheds are proudly manufactured in the U.S., in the town of Breese, IL. In 2020, Arrow celebrated its 50th anniversary making quality outdoor steel storage products.